To be the leader in CHB clinical cure d on pegylated interferon alfa-2b
*Exploratory clinical research, improve CHB clinical cure level
Recently, Amoytop Biotech has supported many exploratory studies of combination regimen with pegylated interferonalfa and nucleos(t)ide analogues (NAs) on CHB clinical cure conducted by top domestic hepatitis experts, including Anchor study, ICURE study, etc.. Besides, Amoytop Biotech has supported 5 research subjects involved in the National Major Scientific and Technological Projects on "Prevention and Treatment of Major Infectious Diseases of AIDS and Viral Hepatitis"during the 13th Five-Year Plan period, which are also exploratory studies focusing on the clinical cure of chronic hepatitis B.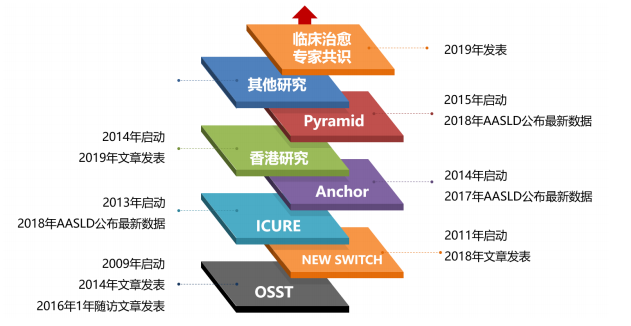 * Clinical study of CHB clinical cure, the 1stconfirmatory clinical study with clinical cure as treatment target in CHB treatment fields
The confirmatory clinical study of combination treatment of pegylated interferon alfa-2b injection (Pegberon) and NAs in NAs-experienced CHB patients is approved for implementing in China, meanwhile observation research in treatment-naive CHB patients is also approved, which will provide high-level medical evidence for rational drug use and treatment optimization on CHB. This is a multi-center, randomized, controlled and confirmatory clinical study to evaluate the efficacy of combinationt reatment of Pegberon and NAs in CHB patients (HBsAg positive for at least 6 months or with other CHB diagnosis evidence) with clinical cure rate (undetectable serum HBsAg) as primary efficacy parameter. It is planned to include 400 CHB patients, including 240 cases of NA-experienced patients with HBsAg< 1500IU/ml and HBV DNA < 100IU/ml and 100 cases of CHB treatment-native patients with HBV DNA≥ 10000IU/ml.